In an opinion column written by Fabiola Santiago, writer and editor for the Miami Herald, the latest woman justice appointed to the Florida Supreme Court by Governor Ron DeSantis is a win for women.
In her column published in the Herald on May 27th, she writes – From Miami-Dade bond court to Florida's Supreme Court, Judge Renatha Francis' rise has been by any measure spectacular.
She's young, black, immigrant, Caribbean-born, and the mother of two, the youngest a month-old boy.
She was born to a single mother from a farming background in Jamaica and helped raise her younger sister.
She ran her own bar and a trucking company while attending college full time on the island before emigrating to the United States as an adult.
And on Tuesday, Francis gave American women something you don't see in the competitive judicial arena — or in many other workplaces — a woman on maternity leave being appointed to the highest court in the state.
Talk about breaking through stereotypes and glass ceilings.
MILESTONE IN FLORIDA HISTORY
Her appointment is a bundle of firsts, a milestone in Florida history and a chapter about the contributions of black immigrants in the United States.
First Jamaican.
First black, foreign-born immigrant woman, she follows Justice Peggy Ann Quince, first African-American woman appointed to the Second District Court of Appeal in 1993 by Democratic Governor Lawton Chiles and then to the Supreme Court in 1998 by Republican Jeb Bush, back when bipartisanship existed.
"I am truly the epitome of the American Dream," Francis said at a press conference at the Miami-Dade Public Library, where Governor Ron DeSantis announced her appointment to the Supreme Court.
As she spoke, her almost 3-year-old son, Joshua, pranced around the podium saying in the cutest voice, "yes," to her comments.
"Josh, you are a wonderful little boy," she acknowledged him. And to baby Matthew, she prayed: "Dear Lord, please let mom and dad sleep."
At that moment, politics aside, all of us working moms could relate on a human level to Supreme Court Justice-to-be Renatha Francis. Even if some of us don't think she exercised good judgment taking out in public a newborn baby during the coronavirus pandemic — and to Miami-Dade of all places, the state's epicenter.
POLITICIZATION OF FLORIDA COURTS
Rightly so, her appointment isn't without controversy because, unfortunately, it comes at a time of dangerous, runaway politicization of Florida's courts by the ruling Republican Party.
At 42, Francis hasn't even been a lawyer long enough to fulfill a constitutional requirement for her appointment, that she be a member of the Florida Bar for 10 years.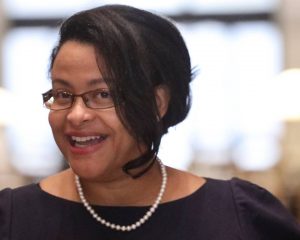 But she had one qualification the GOP wants in their candidates for what are supposed to be nonpartisan appointments: She's a member of the conservative Federalist Society, which advocates a textualist interpretation of the U.S. Constitution that equates, for example, the muskets of the 18th Century with the mass killing machines available at your neighborhood Walmart today.
But then, when it comes to a Republican governor appointing a conservative judge the party wants, the text of the Florida Constitution doesn't much matter.
Francis is four months shy of meeting the 10-year requirement, time she's spending on maternity leave from Palm Beach County's Circuit Court, where she oversees family and probate divisions.
She officially takes her seat on the Supreme Court on Sept. 24.
Renatha Francis gives her remarks after being appointed by Gov. Ron DeSantis to the Florida Supreme Court. The announcement came at a press conference on Tuesday, May 26, 2020, at the Miami-Dade Public Library main branch in downtown Miami. Carl Juste CJUSTE@MIAMIHERALD.COM
She and Cuban-American John Couriel will add diversity in terms of race, gender, and ethnicity to what's now an all-white male court.
But not in thought or ideology.
Still, she may not subscribe to progressive ideology on paper, but we can celebrate Francis for all she represents, a welcoming America that all too often these days feels like a discarded ideal.
I'll take the gains for women, for people of color where we can get them.