The powerful true story of one of Jamaica's greatest ever musicians told as a beautifully created eight volume comic book series, commencing early 2022. Story adapted from Heather Augustyn's brilliant 2013 biography, Don Drummond: The Genius and Tragedy of the World's Greatest Trombonist.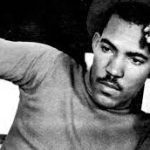 An iconic but often misunderstood figure in the mythology of Jamaican music history, Don Drummond continues to be a huge influence and inspiration to ska and reggae musicians worldwide. Trombone Man: Ska's Fallen Genius will shed light on on Drummond's early life and the circumstances that led to his tragic demise.
Central to the story is Drummond's girlfriend, Anita 'Margarita' Mahfood, a Syrian-Jamaican rhumba dancer. As a dancer she set Kingston on fire in the late 1950s and early 1960s with her risqué stage routines – but her role in the development of ska has been overshadowed by her relationship with Drummond. Our story aims to give Margarita due credit for her contribution to the early ska scene.
Project trailer can be viewed here: https://bit.ly/3wLfUDy
Trombone Man: Ska's Fallen Genius will be a Kickstarter crowdfunded project. Support the creation of this work by pre-ordering your copy, along with especially created merchandise only available on Kickstarter. To register interest and be informed when the crowdfund goes live, sign-up to the campaign pre-launch page here:
https://www.kickstarter.com/projects/2007751561/trombone-man-skas-fallen-genius
Facebook page: https://www.facebook.com/dondrummondgraphicnovel