Sunrise, Florida – May 22, 2023 – Award-winning chef and James Beard fellow Vicky Colas, recently showcased an exquisite culinary experience centered around the theme "Easy with Grace Jerk," capturing the essence of Jamaican cuisine's bold and flavorful character.
The exclusive Influencer's Tasting Table event took place at Colas' Pro Kitchen Hub in Sunrise, Florida. A hand-selected guest list included esteemed influencer food bloggers, television and radio personalities, celebrity chefs, and socialites, including from Jamaica Maxine Hogarth-Spence, Kamila McDonald, renowned local family and matrimonial attorney Natasha Mayne, Loretta Barsotti, Alison Higgins, ABC Local 10 News Anchor, Alexis Frazier, Eddy Edwards, and Bridget Edwards of Riddims Marketing and Chef Abdul, among others.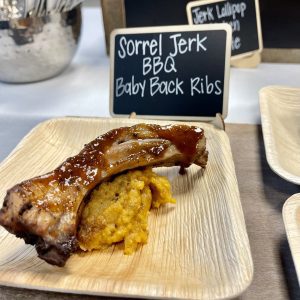 Attendees were treated to an array of mouthwatering dishes, meticulously prepared by the talented Chef Colas, known for her innovative approach to Caribbean cuisine. Each dish was created to embody the essence of Grace Jerk. The tasting table featured an impressive menu that highlighted tantalizing Stir Fry Callaloo with Fried Dumplings, delectable Crab-less Heart of Palm Cake, and spicy Jerk Chicken Gumbo. Guests also savored Grilled Salmon Bites, succulent Jerk Lollipop Chicken Drumettes, and Sorrel Jerk BBQ Baby Back Ribs.
Invitees enjoyed refreshing and invigorating palate cleansers created with Grace's Tropical Rhythms to cleanse between courses. The culinary journey culminated with the grand finale of Coconut Bread Pudding and Basil Avocado Mousse, complemented by expertly crafted cocktails which included Tropical Rum Punch Runners and Coconut Water Rum Coolers. Each dish was perfectly paired with a carefully selected wine, elevating the overall dining experience.
An impromptu Influencer's Quick-Fire Challenge added excitement to the evening. Under the directions of Chef Vicky and Chef Irie – Food bloggers, local radio and television personalities, and other well-known influencers from South Florida enthusiastically participated in this captivating competition. The challenge was for competitors to create a dish from a mystery basket in 20 minutes. To the surprise of the judges, the contestants showcased their culinary prowess as they demonstrated their skills and creativity under pressure.
"Our team worked exclusively to bring the taste of Grace Jerk to new audiences. Many food enthusiasts love to eat authentic island foods, including Jerk, but don't know how to make them independently. Our job was to show them that you can jerk anything and that Grace Jerk makes it easy to create your own authentic jerk dishes at home."…. Kimberley Lue Lim, Global Category Manager, Grace Foods.
The exclusive Influencer's Tasting Table event proved to be a remarkable success, igniting the taste buds and captivating the hearts of all who attended. It celebrated the rich flavors of Jamaican cuisine and fostered connections among influential personalities in the food and media industry. With Chef Vicky Colas' culinary expertise and the exceptional offerings from Grace Jerk, this event highlighted gastronomic excellence.