Lauderhill, FL – The City of Lauderhill Commissioner Lawrence "Jabbow" Martin sponsored and presented the 2nd Annual Pink Up Bike Ride and Health Fair in October 2022 to raise funds for Cancer Warriors.  With the help of participants and many generous sponsors, the Pink Up events successfully raised over $18,000 dollars over the past two years. A portion of those funds was donated to Broward Health and the American Cancer Society in 2022.
Commissioner Jabbow will be accepting grant applications to allow residents who are currently battling cancer in the community to apply for an opportunity to receive a $500 grant from the Pink Up fundraisers. Applications will be considered until February 15, 2023 or until the funds are expended on a first-come, first-approved basis. Applicants must meet the following qualifications:
A cancer warrior that has a compelling story and can demonstrate a need for financial support.
A legal resident of the United States.
At least eighteen (18) years of age; or a parent or guardian must apply on behalf of a minor.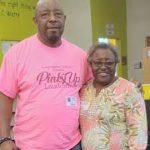 Commissioner Jabbow shares, "Now that we have successfully held two Pink Up fundraisers, we are able to support Cancer Warriors and show them love, support, and hope. The grant money available is the direct result of people and businesses in the community chipping in. Recipients of these funds should use the money to do something spectacular for themselves. Something that cancer has not allowed them to do."
Applications for the Cancer Warriors Grant are available at www.lauderhill-fl.gov/breastcancer.