Kingston, Jamaica – Minister Marion Hall (formerly Lady Saw) is in a reflective mode with her newest single, "If I Was Famous." The self-produced track, which dropped on December 17, 2021, paints a stark contrast between her present life as an ordained minister and her past career as a Dancehall artiste.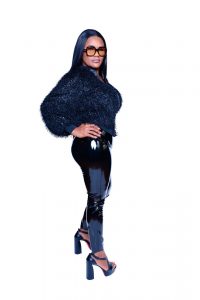 "What inspired me to pen this track is the way I'm being treated now that I'm with Christ, compared to when I was 'famous'. People used to be all over me, they'd pay a whole lot of money to see me, give me gifts and all these things. However, when I chose Jesus, everything has changed and some of the same people who supported me in the past have turned on me now. That's why I wrote the song," she explained.
As she describes, the beat was sent to her by God and she met with Clarky from Chromatic and several musicians that he had worked with before to lay down the track. From that, the lyrics flowed and resulted in a high energy, enticing track.
"The message that I would love for listeners to take away from this song is that you can magnify the name of the Lord in any genre of music. You can praise God while rapping, singing R&B, while doing Dancehall or Reggae; whatever genre it is, we have no limit praising God. Whatever music, whatever sound, whatever genre, let the name of the Lord be magnified. Praise Him in the Dancehall, praise Him in the clubs, praise Him in the church, praise Him in the streets, He's all over," she stated.
With her official debut as Minister Marion Hall in 2016, the seasoned artiste has taken a spiritual path, preaching the Gospel from the pulpit to the studio. She has released two albums – "When God Speaks" in 2016 and "His Grace" in 2018 – as well as several singles such as "Mi Soon Alright", "From Mi Born (Obeah Man)" and "Mighty Warrior." As she continues to build her catalogue, her next endeavour will be a brand new album.
"I'm looking for this song to be the door opener for the album that's coming. Now that I've gotten the attention, people are assuming a lot of things like, 'she's coming back' but Lady Saw will never be back; I will never be that person again but if I have to go into the Dancehall, the clubs, wherever God says to go, I'll go. I may not understand what God is doing with this song and why God gave me all these lyrics but whatever He's doing, I'm all in," she expressed.