Mayor Wayne M. Messam elected as head of statewide mayors' organization
MIRAMAR, FL (Monday, August 16, 2021) – City of Miramar Mayor Wayne M. Messam was elected President-Elect of the Florida League of Mayors, an organization for Florida's mayors, founded and developed by Florida's mayors. He was officially elected during the organization's Florida League of Cities annual conference in Orlando. Mayor Messam will serve this upcoming year as President-Elect and will be sworn in as President for a one-year term starting in 2022.
"I'm humbled to have received the vote of confidence by mayors across the state to serve as President-Elect. The Florida League of Mayors has a unique voice and is positioned to ensure Floridians receive the necessary resources and legislative action for our communities. I look forward to sharing the successes of Miramar while collaborating with President Singer and the Board of Directors on pressing issues faced by municipalities across Florida," Mayor Messam stated.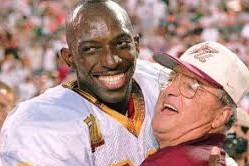 Mayor Messam is no stranger to leadership and success. His accomplishments include being a starting wide receiver and a member of the 1993 National Championship Football Team under late legendary coach Bobby Bowden at Florida State University. Licensed as a General Contractor and a LEED-Accredited Professional, Mayor Messam is a prominent young professional in the construction industry. His company, Messam Construction, is currently building and managing some of the most exciting "green" construction projects in America and serves clients in the public and private sectors providing Construction Management Services. His firm Messam Construction has received numerous awards and is one of the fastest growing minority Construction Management firms in Florida. This diversity of experiences as a business owner and an elected official has proven to be invaluable in his role as a leader for the city of Miramar and the numerous Boards he serves nationally.
The Florida League of Mayors serves as a complement to the Florida League of Cities.  It has been the official nonpartisan organization representing Florida mayors since 2005 and provides a platform for Florida mayors to advocate before Florida Legislature and speak on issues of prominence for their citizens.
Governed by a 53-member Board of Directors and staffed by the Florida League of Cities, the Florida League of Mayors forges a powerful voice that serves Florida's cities well. For more information, visit floridamayors.org.