Toronto, Canada – April 8 – "The Board of Directors of the Festival Management Committee has decided that due to the continued developments concerning the spread of COVID-19, the severe public health threat, and global health crisis, the month-long events held in July-August is cancelled," organizers said in a statement on Wednesday evening.
The carnival, formerly known as Caribana, joins the list of city events to cancel due to the ongoing coronavirus crisis.
The cancelled events include the Festival Launch, Junior King and Queen Show, Junior Parade, Adult King and Queen Show, Pan Alive and Grand Parade.  The Toronto Caribbean Carnival, formerly Caribana, has taken place in Toronto for the past 52 years.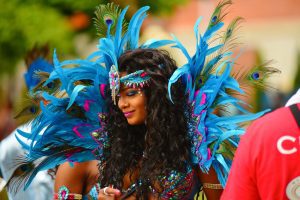 Following consultations with its stakeholders, organizers said there is a risk that the virus could spread, given the thousands of people expected to attend.
"It wasn't an easy decision, and we definitely consulted with the city and our on our partners," Andre Newell, the carnival's director of marketing, communications, and partnerships, told CP24. "We know this is an event that means a lot to the city and to our community." Newell said it is disappointing that the festival, which has been running for over 50 years, had to be cancelled. He said it is the highlight of the summer for many Torontonians.
"We'll celebrate in 2021 bigger and better than ever before," Newell said.
A non-traditional celebration of the carnival will take place on the weekend of August 1 should the situation change in the upcoming months, organizers said. Newell said the celebration would go hand in hand with commemorating Emancipation Day in the province, which is observed every August 1.
"So, we want to commemorate the day regardless of what happens, and we want to celebrate it in some shape or form. And we don't have specific plans on what the event looks like, but if there are restrictions, we do want to celebrate it somehow, whether it's a gathering or even if it's just something that we do a ceremonial," he said.
Toronto Caribbean Carnival cancelled due to COVID-19 Carnival will be bigger in 2021: organizer Andre Newell of the Toronto Caribbean Carnival says it is disappointing to cancel the festival but safety is their top priority.
NOTE: Content reproduced from CP24.COM Bryann Aguilar, Web Content Writer.@BryannAguilar