New York, NY– On Sunday, April 5th, Christopher Martin joined forces with KFC, VP Records and Jamaica's Ministry of Culture, Entertainment, Sports and Gender Affairs to launch Telethon Jamaica – Together We Stand – to fight against COVID-19 with a live concert streamed to the almost 1 million subscribers on the VP Records YouTube channel.
Acoustic performances of "Big Big", "Big Deal", "Life", "Paper Loving" and other hits were performed by Chris Martin, with an appearance by artist D Major. The live event was opened by the Hon. Olivia "Babsy" Grange who introduced the Telethon, which will be held Easter Sunday. The Minister also introduced the donation link www.jatogetherwestand.com, where people started donating immediately and can continue to make donations for an indefinite period.
Christopher would like to thank each person who donated well over $1500 during the 45-minute performance. KFC has agreed to match the amount raised during the broadcast, in addition to supporting Telethon Jamaica. The show garnered over 13,000 views and he encourages everyone to watch the broadcast on Sunday and continue donating.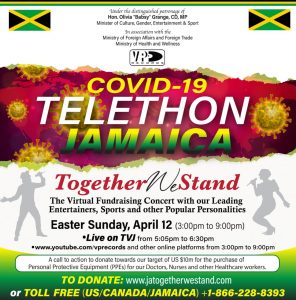 The Together We Stand Global Alliance under the distinguished patronage of The Honorable Olivia Babsy Grange, Minister of Culture, Gender, Entertainment & Sports is targeting to raise US$10.5 million to help Jamaica fight the spread of the deadly COVID-19 disease. 'Telethon Jamaica, Together We Stand', is a 6 hour live event that will take place Sunday April 12th on TVJ Jamaica (5-630pm EST) and on VP Records YouTube channel (3-9pm EST). The link will also be available on other media entities including Irie Jam 360 and 1 Spot Media.
Inspired by a recent Richie Spice song, "Together We Stand", the goal is to bring Jamaicans together to support this important cause, which has affected so many citizens globally.
The telethon will feature appearances by celebrities, athletes and politicians and live at home performances by Jamaica's top artists. A list of confirmed performers will be announced within the next few days. Telethon Jamaica is being spearheaded by an alliance of global diaspora organizations with the endorsement of the government of Jamaica. The Hon. Olivia "Babsy" Grange is the patron of the event.
Please donate to Jamaica's fight against COVID-19 campaign here: http://jatogetherwestand.com
Don't miss the 'Telethon Jamaica, Together We Stand' 6-HOUR LIVE STREAM on Sunday 12th April (3 – 9pm EST) available via VP Records' Youtube Channel, featuring special guest LIVE performances