Jamaican born Dale V. C. Holness is running as a candidate for Florida's U.S. Congressional District FL-20 to extend the legacy of his decades-long friend and mentor, Congressman Alcee Hastings, who endorsed him as his successor before he died on April 6, 2021.
Dale V.C. Holness is a 17-year elected Democrat and public servant who served as a City of Lauderhill Commissioner from 2004 to 2010, Broward County District 9 Commissioner since 2010, including time served as the Broward County Vice-Mayor in 2019, and Broward County Mayor in 2020. Holness has been a Real Estate Broker and business owner for the last 30 years. He attended Plantation High School, and after graduating in 1975, went on to Broward Community College.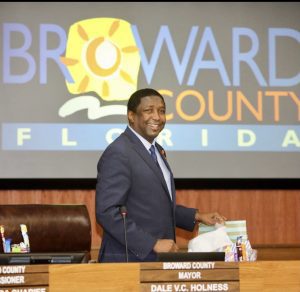 Notable Achievements
Among his notable achievements, Holness is the architect of Florida's International Trade & Cultural Expo (FITCE), which hosted over 2,000 attendees, including former international presidents, international business leaders, and local, state, and federal trade agencies.  He has organized trade missions to India, Nigeria, Colombia, Israel, Haiti, Jamaica, Trinidad and Tobago, and Costa Rica to prove that if the United States utilized its greatest asset: the diversity of its population, it would experience greater equity, prosperity and economic growth. Through his leadership, Broward County received a U.S. Presidential Award for its efforts to support local businesses' export to the rest of the world.
Holness led the effort to build 120 new and affordable single-family homes in the Broward Municipality Services District to increase homeownership access. He also sponsored an additional Homestead Exemption authorization up to an additional $50,000 to lower the property taxes of many low-income senior citizens. In collaboration with OIC of South Florida and Florida Rights Restoration, he secured at least $500,000 of annual funding to create a Broward County Workforce Investment Program. Holness has successfully championed increased contracting opportunities for small, minority, and women-owned businesses.
Holness, in collaboration with local NGOs, bar associations, and elected officials, also initiated the free monthly Lauderhill Mall Citizenship Drives, which has assisted over 7,500 individuals in becoming citizens since 2010.
A Leader For All
As Chairman of the Broward Black Elected Officials, Holness devised and implemented the county's first Broward Black Action Plan for community-led solutions toward greater outcomes and opportunities across the areas of economic development, employment, criminal justice, education, housing, transportation, and health within Broward County's Black communities. He has also helped raise millions of dollars as Co-Chair of the United Negro College Fund's Annual Fundraising Luncheon.
As the 2020 Mayor of Broward County, Holness guided the county through the COVID-19 pandemic. In response to the murder of George Floyd, sponsored county ordinances focused on establishing greater equity and prosperity through a Racial Equity Taskforce, Police & Criminal Justice Review Board, and Crown Act. In 2021, he staunchly fought alongside leaders and supporters of the Haitian-American community for TPS re-designation.