PHILADELPHIA, PA (September 8, 2021) – The U.S. Virgin Islands (USVI) invited thousands to "Reconnect with Paradise" over the Labor Day weekend at JAY-Z's "Made in America" music festival, which attracted about 100,000 patrons to Philadelphia's historic Benjamin Franklin Parkway, widely regarded as the city's cultural and artistic mecca.
The USVI Department of Tourism, including its Division of Festivals, kept the Territory "top of mind" among prospective mainland travelers by showcasing its musical and cultural attributes through a lively activation held in close proximity to the main stage, which featured top stars ranging from Megan Thee Stallion to Justin Bieber.
"Made in America", which this year celebrated its 10th anniversary, featured a superstar roster of performers across genres, including pop and hip-hop. It is the brainchild of award-winning artist, businessman and philanthropist JAY-Z, who curates the show. The 2020 event was canceled due to the COVID-19 pandemic, and ticket holders this year had to show proof of a negative COVID-19 test result within 48 hours of attending, or proof of full vaccination against COVID-19.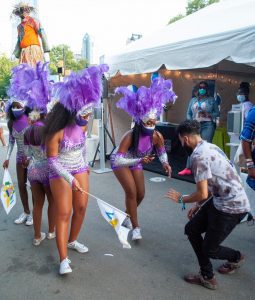 "The response to our activation was outstanding," remarked USVI Commissioner of Tourism Joseph Boschulte, who said "Made in America" allowed the Department to reach a younger demographic, which has largely continued to travel during the pandemic.
He disclosed that the USVI was the title travel sponsor of "Made in America", a first for the event, and "our presence on the parkway allowed our team to personally connect with thousands of potential travelers who have never been exposed to our culture in such a tangible manner."
USVI television commercials were showcased on the main stage, and the destination was featured among several national brands.
The in-market activation, strategically located at the entrance to the venue, allowed concert-goers to engage with the USVI delegation, which included mocko jumbies, carnival dancers, Department of Tourism staffers and marketing and sales professionals.
Swag bags filled with USVI-branded merchandise were shared with attendees, who had a chance to win prizes ranging from local Virgin Islands jewelry to vacation getaways. Ticket holders also engaged with the USVI photo booth, which allowed them to share their own photos on social media.
Department of Tourism partners who supported the activation included Cardow Jewelers, Sonya's Fine Island Jewelry and Virgin Islands Jewelry as well as Sand Castle on the Beach and The Buccaneer hotels on St. Croix.
Assistant Commissioner of Tourism Alani Henneman-Todman expressed satisfaction about the activation as well as the feedback and engagement from festival-goers and event organizers. "Music and culture are an essential part of the USVI brand and experience, and this event fuses those elements, so it is a perfect fit for us," she said, adding that in-market activities help to bolster the Department's strategic initiatives to strengthen and support airlift into the Territory from key markets such as the Northeast.
Ian Turnbull, Director of the Division of Festivals, agreed, explaining that the team continues to drive interest in the Territory through innovative marketing strategies. "The stage is now set for the next iteration of our marketing activities to firmly place U.S. Virgin Islands culture and our tourism attributes on the hearts and in the minds of American travelers of all ages," he stated.
The USVI partnership was made possible through JAY-Z's Roc Nation. "Made in America" was broadcast live to millions via Tidal and YouTube.