MIRAMAR, FL – Wednesday, September 27, 2023 – The Miramar Regional Park Amphitheater was the hub of cultural festivity on September 16  as the City played host to the 10th Annual Miramar Latin Music Festival. Attracting over 7,000 attendees, the event, hosted by Commissioner Yvette Colbourne, highlighted outstanding musical performances and reflected the rich tapestry of Latin culture.
The audience was treated to the exciting rhythms of merengue maestro Wilfrido Vargas and the dynamic beats of Dominican hip-hop artist Sensato. Performances by Brenda K. Starr, blending pop with salsa, and Gaitanes with their Panamanian melodies, demonstrated the broad spectrum of Latin music.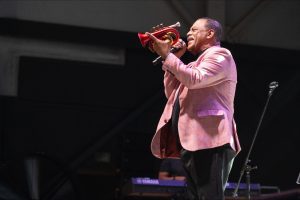 In addition to the musical showcase, attendees enjoyed an array of culinary offerings. Vendors served up flavors of Latin America, with dishes and cocktails reminiscent of the culture.
Reflecting on the event, Commissioner Yvette Colbourne remarked, "To see so many gather and celebrate the Hispanic culture with such enthusiasm reinforces the importance of events like this. Our vibrant community stands united in its diversity and the rich contributions of the Hispanic community."
As Hispanic Heritage Month continues, Miramar has several notable events lined up:
September 30th through October 14th: Spanish classes every Saturday until Oct 14th
Now until October 31st: Cuban Expressions Art Exhibit at the Ansin Family Art Gallery, highlighting Cuban creativity.
October 6th: Latin Nights Gala Awards Ceremony.
October 11: Hispanic Heritage Business Recognition awards event.
Through October 12th: Wellness with a Hispanic Twist – Mayor's Hispanic-themed Zumba and Yoga sessions.
October 14th: Los Pericos Concert.
Promoting diversity and unity, the City remains committed to celebrating its Hispanic roots. The festive spirit of this heritage month is set to continue throughout October.
For further details on these events, the public is invited to visit the City of Miramar's official website at Miramarfl.gov. Join in the celebration and appreciation of the rich Hispanic legacy this month!