In June 2016, Authors Elliot Bastien and Sandra Bernard-Bastien published a book of short biographies of over 300 individuals (with roots in 25 Caribbean countries) who have made major contributions to the development of the United States. Caribbean American Heritage: A History of High Achievers contains almost 400 pictures of individuals, historical buildings and other iconic attractions.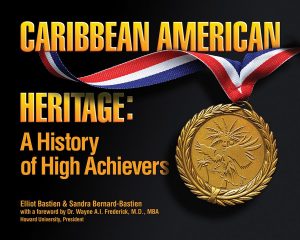 The prize-winning authors, both Caribbean Americans, have several published books to their name. This book is a collector's item, which utilizes short sound bites, making it ideal for communicating effectively with both adults and children. It is informative, and its pictures make it attractive to the eye, a combination that ensures it will reach substantial audiences. With a foreword written by the President of Howard University, the distinguished oncologist Dr. Wayne A.I. Frederick, who is one of the high achievers featured in the book, the compilation is aptly named Caribbean American Heritage: A History of High Achievers. And the book is a veritable history of the US from a founding father, Alexander Hamilton (immortalized on the 10-dollar bill), all the way up to the present with Senator Kamala Harris, the first Caribbean American to be elected to the US Senate in 100 years.
The book tells of Caribbean American achievements across a broad range of areas – from a Secretary of State to a Speaker of the House, from political activists to US senators, from inventors to sporting heroes, from Academy Award winners to Nobel Prize winners, and from prize-winning journalists to CEOs of Fortune 500 companies.
This easy-to-read book about Caribbean Americans virtually chronicles the development of the United States of America, because Caribbean Americans were major participants at every defining moment in the nation's history It is no surprise that the larger immigrant populations have the larger representation of high achievers. Caribbean American Heritage: A History of High Achievers contains bios of descendants from almost all the countries of the Caribbean, with heavy representation from Bahamas, Barbados, Dominican Republic, Guyana, Haiti, Jamaica, St. Kitts & Nevis and Trinidad & Tobago. Countries such as Antigua & Barbuda, Belize, Bermuda, Grenada, Panama, St. Lucia, St. Vincent & the Grenadines, Suriname, and the Virgin Islands are also well represented.
The book is available for purchase at the link https://bit.ly/2ABpNuo