The Grenada Tourism Authority (GTA) recently announced that JetBlue is adding additional service to the destination in time for its biggest cultural festival, Spicemas. From August 7 to September 1, 2023, the carrier will operate a second daily nonstop flight, a 162-seat A320, leaving New York's John F. Kennedy (JFK) airport at 9:50 p.m. and arriving at Grenada's Maurice Bishop International Airport (GND) at 2:47 a.m. The returning flight departs GND at 5:01 a.m. and arrives at JFK at 9:57 a.m.
JetBlue currently offers daily nonstop service from New York and American Airlines offers a daily nonstop flight from Miami, along with a seasonal weekly flight from Charlotte on Saturdays. Also, in line with the uptick in family travel to the destination, JetBlue has increased capacity on its regular service, from an A320 to the 200-seater A321, for the entire summer peak period from June 15 to September 5.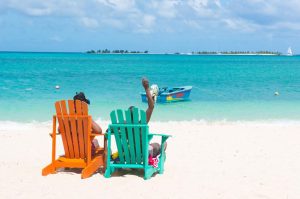 "We're thrilled to welcome this expanded service from JetBlue, offering travelers more options to come to Grenada," said Hon. Lennox Andrews, Minister for Economic Development, Planning, Tourism and ICT, Creative Economy, Agriculture and Lands, Fisheries and Cooperatives. "JetBlue has always been a committed partner and we expect a surge in bookings, as this service allows the destination and our stakeholders the opportunity to welcome even more visitors for Spicemas and showcase how Grenada honors its culture and why we're truly the spice isle of the Caribbean."
"The USA is the largest tourism market for Grenada and continues to perform exceptionally well. In 2022, the USA closed off the year 2% over 2019. Currently, Jan-Feb 2023, the market is up 19% over the same period in 2019 and 3% over for the same period in 2022. Grenada continues to remain committed to US tourism growth and most recently welcomed a new sales manager in New York, Ms. Shanai St. Bernard," says Petra Roach, CEO of the Grenada Tourism Authority.
Margaret Hector, a Grenada 473 Connect Ambassador, states, "It's an excellent initiative on JetBlue's part to add a redeye flight from JFK to Grenada for the Spicemas season. It brings into consideration the people who are avid carnival lovers and need to work during the day, or for those thinking of a last-minute weekend getaway. It speaks a lot about the love for our country, our cultural celebrations, and our strong diaspora community in the New York City area."
For more information about Grenada, visit: https://www.puregrenada.com/.
For more information on Spicemas, visit: https://spicemasgrenada.com/.